On Adonis Puentes' new CD, Vida, the song I can't stop playing is
track one, Comerciante. Adonis has this song available on his website,
and you can download and play it while you view these pictures.
The link should open a new page where the music should download.
You might have to start the music player on that page after the song
downloads, and then return to this page while these guys perform for you.

Adonis Puentes
CD Release, Folkfest 2005
with special guest,
brother Alexis (ALEXCUBA)

Gilberto Moreaux
http://www.myspace.com/gilbertomoreaux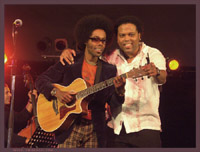 What a treat it was, to see and hear brother Alexis Puentes, together with Adonis tonight. Each of them seem to grow musically, and together they seemed like a brother's dream.
Adonis Puentes
www.adonispuentes.com
http://www.myspace.com/adonispuentes

Alexis Puentes (ALEXCUBA)
http://www.alexcubaband.com/index.html
http://www.myspace.com/theofficialalexcubaband
Oct.12, 2005:
And after I play Adonis Puentes' Comerciante,
the next thing that I keep wanting to play is
Miles Davis,
Red China Blues.
It's from the CD Get Up With It, and I think
that it's one of the most severely-hated of his pieces, by the
non-fusion-lovers.
Correct me if I'm wrong, you Miles Davis experts.