About the music
I'm playing it on my CD player (and have been for days) but it's not in my hands to provide it to you here on the net. So for now I'll do the best I can to recommend it and to provide the easiest access between you and the musicians.
Bad Boys 8:38
Written by the keyboard player, Andy Emler
CD: The Trilok Gurtu Collection
track 4

Trilok Gurtu: Drums, Tabla, Percussion
Bill Evans: Soprano Saxophone
Mark Feldman: Violin
David Gilmore: Guitar, Voice
Andy Emler: Piano, Synthesizer, Voice
Chris Minh Doky: Bass, Voice

Produced by Trilok Gurtu with Kurt Renker & Walter Quintus
Recorded by Walter Quintus with Cedric Beatty at Stadtgarten, Cologne, October 1995
Mixed by Walter Quintus at Ztudio Zerkall, Germany
Published by Silvascreen Music

Originally Released on: Trilok Gurtu "Bad Habits Die Hard" CMP 80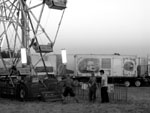 If you want another track to follow-up Bad Boys,
one that follows-on to the context of this page, try,
Believe

Really, it does belong with the previous song, as it is on this CD, tracks four and five.
In this song Trilok Gurtu is far more prominent in the mix, than he is in Bad Boys. Alongside David Gilmore's grand and loud guitar they make a song possibly good for getting you out of your chair for some fun. Here is rock, funk and jazz, and it is great. You cannot tell me that there is better drumming than this.
Well okay, tell me what you want.
Tell me anything! (I'm smiling.)
Anyway, the song is Believe, by Trilok Gurtu,
and I have it on the CD The Trilok Gurtu Collection
(I'm not selling it - I'm just telling you about it.)


There's a sample of the song at:
http://www.silvascreenstore.com/sounds/CMPCD2501T005.mp3
(At Silva Screen Records' site)
The song was originally released on the Trilok Gurtu CD,
Believe.
Beware of lesser-quality online copies (like the one above) that float around on the net.
You're listening to a man well-endowed with cymbals, and things that cheap audio copies destroy. Even here with my CD player and subwoofer, I'm thinkin' that seeing him live is an even better option.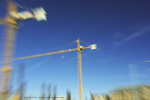 9565
I guess you never know
when someone might be finding beauty
in your work.
Eric

February 25, 2006
Try

Eric Porcher's Trilok Gurtu page

with yet more images, and an independent tribute
to an amazing musician.