after a party
Page One
Next page
March 2, 2003
up at the crack of noon
Echoes of beautiful voices, laughter and song
in the silence
Silence is good
and sometimes not wanted
Tasting



smelling


hearing

smiling

admiring

singing along, inside



Beloved people
Big smile
Get up Eric
Costco parking lot
Ride man, ride
Well this CD from the library, that I'm hearing for the first time, is getting me going.

It's called So La Li, by Sabah Habas Mustapha & the Jugala All Stars.

That's one band o' freakin' musicians! Somewhat Indonesian. Hey, party music!
drove on, and found...
A Giant Mud Puddle!

Just what I needed.
[Well here it is now, Wednesday evening, three days later.
Picked up the picture CD, and I'm in a rather different
frame of mind, listening to some boppin' jazz (#6), and
trying to extract something out of these pictures.
Whatever.
It was this pipeline-in-progress that caught my eye,
and took me off the road to try for a picture.
Honest!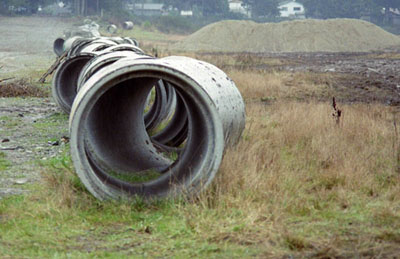 I'm kind of laughing at myself now, or at least the guy we were on Sunday.
Cheer up man!
But no, 'we' felt very much like just 'me' then.
Contact Eric
Created: March 2, 2003 Last updated: November 23, 2003
© 2003 Eric Porcher - All rights reserved.