Eric is currently living online mostly at www.myspace.com/ericporcher
and at www.soulwindows.com

December 24, 2006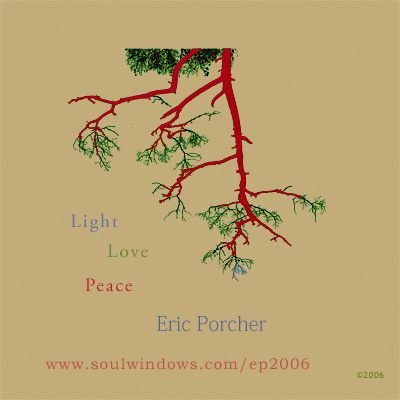 click image to read my 2006 message
June 29, 2006
March, 2006
March 9, updated March 30
Music to Speak of



Modern-sounding African music to get excited about.
Issa Bagayogo's CDs, Timbuktu and Tassoumakan)
They make me feel good.

Click here for my review, including links to song samples.
March 1
I will be showing up to three original prints
this weekend in Parksville.

The Oceanside Community Arts Council is hosting its
Festival of Arts 2006, juried show.


I have submitted the following three prints:


Spider Lake,
http://www.swinehall.com/images/spider.html


The Grace of Two,
http://www.swinehall.com/images/two.htm


And, Letting Go, which isn't online yet.



Thursday, March 2, through Sunday, March 5.
For times, location and other info please see,
http://www.oceansideartscouncil.com/

Specifically,
http://www.oceansideartscouncil.com/F-Arts06-600.jpg
February, 2006
February 22

If I could just list a string of music selections
for you here tonight,
(and you had access to that music)
I would list some highlights of the playlist here tonight.

Someday I'll be able to just play it, and have it available.
I'm VERY happy to find a CD of Santana, of the early variety,
that is new at least to me.
The CD's called Mystical Spirits
Get it, if you like early Santana.
Lots of great guitar,
some live sloppiness,
and must-have late sixties and early seventies guitar rock,
and some really good update remixes.
Classic, must-have Santana. A much-welcomed surprise.
Santana, Mystical Spirits
February 20

Sometimes when I view my images, I see and feel silence. This can be a shortcoming of photography and graphic arts.

My pictures are almost always born in the midst of an abundance and magnitude of music. (I also prefer to view completed images with music.)
I'm searching for a song to go with Her Inspiration. I'm sure it's out there. Haven't found it yet.
The Construction series of images is primarily inspired by, and is a tribute to, Trilok Gurtu. (Specifically his songs, Bad Boys, and Believe.)
But on the morning when I took this picture, Her Inspiration, I was listening to the music of another most-masculine performer: Miles Davis, and his ground-breaking CD, Bitches Brew.
This is the foundation of the image, and maybe of this series: masculinity.
And what do I know about that?
Ha ha! Not much!
But I'm inspired lately by the character of Chris Stevens (John Corbett) -
the radio DJ, philosopher and resident thinker -
on these DVDs of the TV series, Northern Exposure,
which I've happily borrowed from my local public library.)
Still listening to songs, looking for something audible to accompany this image, Her Inspiration.
Something not as sympathetic as the voice of Kate Bush, singing to and with Peter Gabriel in his song, Don't Give Up, on the CD, So. I love that song.
But the feminine feeling of sound that I'm looking for, isn't sympathetic or maternal. Can you hear it? Do you know what it is? (Please tell me if so.)
(Yes, I know it's something in my imagination, this gracious, peaceful, energizing, femininity that I see in this image.)
Yet maybe it's not so mythical. Yes, in its purest, this femininity might elude all of us for a time. But even now, I do believe in and know a representation of it. Okay, there are many representations of it and I acknowledge them (you) all. Yet I am currently the most fortunate recipient of this, of this highest-potency and-purity dose of feminine spirit.
Still looking for music. Lots of really good stuff here, but not for this.
But for tonight I'll leave you with this: an older live performance by Carlos Santana, one sure to raise a tingle above your scalp, and maybe make your thighs squirm. It's Europa (Earth's Cry, Heaven's Smile), from the CD, Moonflower. (The live version of the song.) It may not quite be about femininity, but it does address something as pure and lofty, and brings it all to the level of our ears.
I reserve the right to review, edit or delete the preceding in the morning.
I prefer to sleep on this kind of stuff before uploading it. But not tonight.
Goodnight.
February 17
A new original print, Her Inspiration,
is online on the Construction page.
See the print now
at the Community Arts Council of Greater Victoria
Look 2006 Show
February 10 to 26, 2006
Map: http://www.cacgv.ca/contact.html
In addition, I was given the opportunity to participate in a display
across Broughton Street from the CACGV Gallery, in the window at the
entrance to Victoria's main branch of the Public Library. It's called
the Artist's Corner.

My image, Douglas, says what I do in photography. It also belongs with
Her Inspiration, but not too close. These images are similar in energy
and optimism. and each one was balanced by an accountant. These urban
architectural explorations, look for the magical in everyday life.

But these twins are not identical. Across the street is close enough
for them, unless one tries something like this with the background:

http://www.swinehall.com/construction/her_insp_eric_douglas.html


Douglas:
http://www.swinehall.com/images/douglas.html



I will be at the CACGV gallery on Monday, Feb. 20th, from noon until
2:00PM.

February 15
When I was a kid, a young teenager if that, there was a record store called something like Kelly's, on Yates Street in Victoria, B.C., Canada. (Before A&B Sound came along.)
They used to have, in the early seventies, a little room at the back, with black-light posters, and late-sixties and early-seventies rock and other music playing. It was a small room with no furniture, and people sat around the perimeter, listening.
I can't remember knowing anyone in there. The faces and bodies, in my memory, are like ghosts. But we were together - listening, watching, feeling.

This is what I'm dreaming of providing here. Some form of visual thing, with easy access to suggested music.
The tools and laws are increasingly enabling and allowing this, but I'm not quite there yet. Any help, comments or ideas would be appreciated.
E-mail Eric
February 10
Sting and Ry Cooder, playing together.
Yes, that's my vote for president.
Ooops, I'm Canadian.

Better not start any rumours. No, I didn't hear anything. I'm just listening, first to several always-amazing Ry Cooder CDs, then to always-there... Sting. What better combination could there be? Ry Cooder's spirit and comprehensive, captivating guitars, along with Sting's bass, vocals and transcending song-writing. Whoa. Get on it guys.
Hey for 2006.
February 7

Tonight, in my kitchen I shouted,

"Mr. Weasel buddy,
where are you?"
He was my hamster, until last week.
Some Ground Hog Day, that. He died.
He became mine several years ago,
after he bit my daughter.
I keep wanting to talk to him when I go into the kitchen.
So I'll talk to you.
I would like not only to offer here suggestions of music I've encountered, which I've thought to be worth passing on, but I'd like even to provide direct, immediate access to that music. Kind of like a radio station. Streaming audio or something. There must be some affordable and legal way to do that. It has to be good for the listener and good for the musician.

Can you offer any tips or thoughts? My address
December, 2005
I planned to send a Christmas greeting.
Getting busy, and sick, foiled that.
So on December 27, here's what I was working on.
And more on the name, Swine Hall.
Dec.19
These rock concerts, with living stars we knew from the sixties and seventies —
they're as much about aging as they are about music.
Music mysteriously bridges us across boundaries of culture, race and generation;
if life has kindly left us able to sing.

I've just watched two music DVDs. Highlights for me:

Eric Clapton's Crossroads Guitar Festival:
Robert Randolph
Doyle Bramhall II
John Mayer
Joe Walsh - this guy still has the energy and musical ability he had in the seventies.
David Hidalgo (He's the guy I've always enjoyed in Los Lobos)
And, The Strat Pack, Live in Concert:
Joe Walsh, again, and
David Gilmour.
I HAD to get something out tonight.
Dec. 5
It was a stormy night.
Actually it was a stormy morning, a month ago.
I was glad not to be in a boat, or under uncertain trees.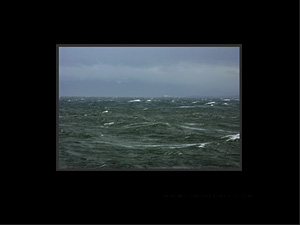 November 3, 2005
November, 2005
November 18

Colour Management is extremely challenging. Calibrated my monitor again here tonight. I thought I had corrected it months ago, but apparently not.
I looked at this site from several other computers on the net recently, and found that many of my images look horrible. This is very disappointing and discouraging. I have several images waiting to be printed and uploaded here, but now so many online to go back to and correct. (I'll just remove some of them.) The text colour is wrong too.

I apologize to you for having inflicted some of these upon you.
Tell yer friends -- some day -- there'll be good images here.
F......flounders, and applesauce.
If you'd care to comment on the miserable experience you've had at your monitor, I'd be delighted to hear from you. But really, any useful feedback you can offer, or stories of how your dog got sick in front of my site, please let me know.
While I was at that page (the "let me know" e-mail link) I cleaned up the welcome mat.
Now, to get back to printing. The good news is that the post-calibration match between my monitor and this printer, at least on this image, is promising. If I can zero-in on the standard appearance for my monitor, then future prints of my images and their appearance on your monitor, ought to be kinda close to what I see here.

Nov. 8
Now online, from the Swine Hall, Other Stuff page,
The Swine Hall of Links page!

Whoopee!
Here's a song I play over and over, by Glen Velez. It's called Pan Eros, from his CD of the same name. I have the song here on a Times Square Records compilation CD called The World of Drums and Percussion. I want to find the original CD.
I can't find much on the net for you in the way of links to pages about this song. But the current sound at Glen's home page is indicative of the drumming and percussion soul you'll hear on it. It's persistent and powerful enough to get under my skin and takes me somewhere, repeatedly. Wait for about three and a half minutes.
With a picture, http://www.emusic.com/artist/10560/10560752.html
http://www.artist-shop.com/cmp/
I don't have an image to go with the song, but wanted to pass it on anyway.
Subwoofer recommended.
Some beauty seems to come from someone seemingly capturing the overwhelming, exquisite enjoyment
of a climax of his or her life.

(Tonight listened to Carlos Santana's guitar solo in the song, Your Touch, on the Milagro CD.)
Other times, it seems to come from a miracle, exploding out of a tragedy.
They do appear, if we watch for them.
October, 2005
One last question, before the end of this month comes in a few minutes.
I need help with Colour Management, here with the monitor, calibrator, camera and new printer. Right now the gaps between the prints and the designed appearance on this monitor are unacceptable. Yikes man. Send me an expert!
So many products here, trying to talk to one another. No one of them seems to produce a manual to make the whole group talk well.
Epson R2400, PC and Dell flat panel monitor, Photoshop..
So many settings. I gain some ground and figure some out, and then hit a completely lousy resemblance. Very frustrating.
There is so much I want to print.
Whoa. Could it be a miracle?
Not one hour after asking the question above,
I get an e-mail with a link to this Windows XP colour management tool.

I'll express my great wonder and gratitude now,
before trying it.
(smile)

Thank you
Whoa. Kind of eerie reading this.

"However, until now Windows has lacked a central Control Panel interface for managing ICC color profiles and ICM 2.0 color settings across the system. The new Microsoft Color Control Panel Applet for Windows XP addresses this by adding a Color tool to the Windows Control Panel, making it easier for you to manage Windows color settings." (link)
And last week,
If you can tell me where to find music videos or DVDs to rent in Victoria, B.C., Canada, I'd love to hear from you. And tips on where to buy 'em too. Paying something for music is a good thing.
October 25
at sunrise
And from,
Inspirational art quotes and fine artists
http://www.artquotes.net
Art Quotes for October 26

When you do things from your soul, you feel a river
moving in you, a joy.
::: Rumi :::
The Sidney Fine Art Show


Living Madonnari and Spider Lake will show this year.

These are my largest pieces to date, and my first canvas print. I like the canvas and treatment and their appearance.


Friday, October 14 to Sunday, October 16.
Sidney, B.C.
http://www.cacsp.com/fineart.html



Oct. 13


One new image, and a link to a great Cuban song to play with it:

Adonis Puentes, Folkfest 2005 images




Still constructing,

along with the subjects.


October 4:

Tonight I'm working on a picture of the administration building at what was Victoria's power generation plant in 1900. 502 Pembroke Street. Now part of the Rock Bay Remediation Project. Constructing a page for that too.



Also of late,
updates to (or started):


Why is it called Swine Hall?

Eric's buzz cards
September, 2005
September 26, 2005

"There's something happening here,
what it is ain't exactly clear."


This one's incomplete, but you might like to watch it develop.

And a quote for ya:

At bottom every man knows well enough
that he is a unique being, only once on this earth;
and by no extraordinary chance will such a marvelously
picturesque piece of diversity in unity as he is,
ever be put together a second time.

Friedrich Nietzsche
I like the quotes I receive from Quote a Day,
http://www.quotes2u.com/
August, 2005
On seeing beyond
Tangent, August 25, 2005
August 18
Studio 16 1/2 are presenting a photography exhibition in their funky upstairs studio in Fan Tan Alley, opening the evening of Friday, August 19 through August 29. I submitted seven small framed prints for the show. Six of my photographs were taken within a stone's-throw of Fan Tan Alley. I like the way this show was assembled and presented.
Soul
Where can I find it?
Soulful
Where is it in an image? I want it.
July, 2005
July 25
I have two images accepted this year to the Sooke Fine Arts Show. The two images are part of a larger series called A Battle Against the Elements, which I hope to show soon. They are from maritime settings, and explore the wondrous beauty which might be found preceding the passing from this life to the next. The two are called Letting Go and Glory Pre-departure.
The Sooke Fine Arts Show runs from July 30 to August 7.
http://sooke.museum.bc.ca/fainfo.htm
July 25
Ian Morris
Local Maestro Madonnari
Government Street, Victoria, B.C.
In Concert Photography,
July 3

Was contemplating keywords tonight.

Eric Porcher's Home Page, images, image, pictures, photos, photo, print, prints, limited edition, limited editions, matt, mat, frame, framed, Eric Porcher, travel photography, photographic, art, Victoria, Vancouver Island, B.C., British Columbia, Canada, Canadian, Saanich Peninsula, Sidney, West Coast, North America, Swine Hall Week, swinehall, BLOG, BLOGS, BLOGGER, WEBLOG, WEBLOGS, WEBLOGGER, journal, online, poetic, roadside, prose, poem, journalling, journaling, journal, blortoschmeitzen, words, beauty, local, music, concert, harbour, harbor, nautical, architecture, engineering, aging, life, death, optimist, optimism, magic

My world and welcome to it.
June, 2005
Images, June 23, 2005

A display of Trees tonight at the Blethering Place

Images, June 22, 2005
May, 2005
Tangent, 05 05 05
April, 2005
Saanich Peninsula
Was thinking of adding that to the home page;

April 11.

Swine Hall


Saanich Peninsula
I love this place. Every corner of it.
There's so much to see.
I found an excellent link today: Google maps.
What fun!